Driveways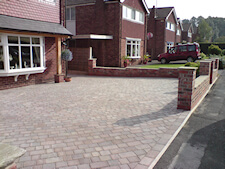 A beautiful driveway will prove a significant asset, designed to complement your home and add value to it.   Maybe you want to enhance the kerb appeal of your home, additional parking spaces, more room to carry your shopping past your car to your front door or you are concerned with flood risk and planning permissions and want a more sustainable solution.
Paul Gibbons Landscapes Ltd can guide you every step of the way providing you with ideas and designs, tones, textures, style and colourways to suit your property and its surroundings, any number of quotations for those options, and a good quality service with as little disruption as possible during installation. 
We want you to be fully satisfied with our work and will not expect final payment until the project is completed to your full satisfaction.  We supply a 5 year guarantee on all our work.
We work on a supply and install or install only basis, and will install any type of paving products of your choice.  Many can be seen in building merchants, specialist paving centres and DIY stores.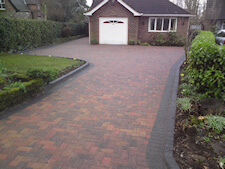 We prefer to use paving products that reflect the quality of our installation to suit any purpose, any property and any budget.  We can source and lay the vast range of driveway products on the market, including block paving in its wide and varied selection of design and colour, indian stone, the huge range available of decorative paving, driveway gravel or stone chippings.
Two of the manufacturers of quality paving products we use are Marshalls and Tobermore. All their products are manufactured to the appropriate European Standard where applicable and to the highest standards.  They provide guarantees for their products and are committed to quality and innovation.  Their products can be chosen out of their catalogues available in most builders merchants or samples from us on request.
The most popular Marshalls products we install are:-
Driveline 50
Britian's top selling driveway, a solid reliable block paving made to last in a wide range of colours with matching channels, kerbs and edgings.
Drivesett Tegula
Most popular for the 'aged look' time worn appearance that gives a classic, traditional look enhancing the character of proper and renowned for its quality and durability.  The blocks are available in a broad range of sizes and a broad variety of colours with a wide range of co-odinating feature shapes, channels, kerbs and edgings. The most popular Brett products we install are:-
Drivesett Savanna
Drivesett Savanna is a great value, hardwearing block that is available in three sizes so can be laid in different patterns. It is available in three colours so it can enhance different kinds of properties.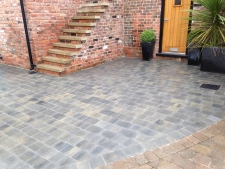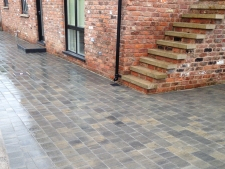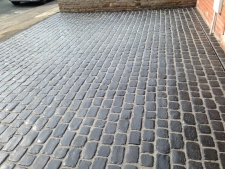 Drivesys Original Cobble
Marshalls have created this wonderful product to provide a cheaper alternative to real cobbles. It has a contoured base to ensure a realistic antiqued cobbled look. It comes in a variety of sizes and profiles as well as colours so it ensures every project using Original Cobble will enhance the property's character and charm.
Bioverse
Bioverse is a permeable paving so no planning permission is needed to use this product on your driveway. It is ideal to use to create additional parking space whilst retaining the environmental benefit of a decorative grassed area. It is available in two colours.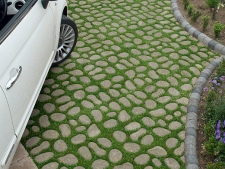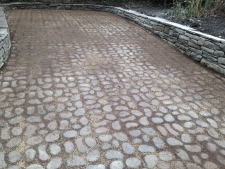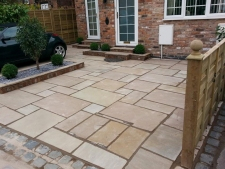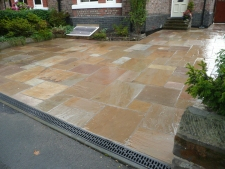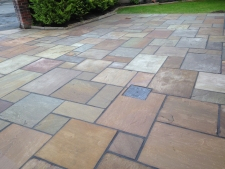 Indian stone
Indian stone has become more and more popular over the last few years. It comes in a range of colours so it can suit any property and can look great alongside other paving. As it is a natural product, when it is cleaned it looks like new. It is strong enough to be used for driveways as well as paths and patios.
Customer Feedback
"We were extremely pleased with the work carried out by Paul Gibbons Landscapes. The work was carried out to the timescales agreed, whilst working in a Covid secure manner with minimal disruption to us. The site was always left in a clean and tidy state and the team clearly took pride in their work. The end result exceeded our expectations. I would have no hesitation in recommending Paul."
"I was extremely please with the work that Paul and his team carried out for me. My friends and family have commented on how good it looks.They dig out the old front garden and paved this along with the side path which made parking for two cars. They also landscaped my back garden. The ideas for the back garden evolved as the project went on they were good as suggesting what would work and what wouldn't for example were to place my large water feature. Paul also came up with a great way renovating my tired and sorry looking back fence. They kept to the agreed schedule, their time keeping and work ethic was exemplary. The project came in on budget. The attitude was very professional and they maintained the guidelines for Covid 19. I would definitely recommend them to you."
May I take the opportunity to thank you and your team for the recent patio construction. Notwithstanding that the finalised patio design appearance is strikingly beautiful and substantially enhances the garden profile, the work was conducted very professionally whilst the attention to detail was first-rate. The team kept me informed of the construction throughout, were friendly and courteous at all times, worked endlessly whilst onsite and ensured that the vicinity was clean and tidy on a daily basis. Albeit a variation to the agreed patio specification, I was extremely thankful for you and the team in performing supplementary work to my existing patio in order to renovate the pointing to the same standard employed on the new patio. I would have no hesitation in recommending your company to friends and family as I'm absolutely delighted with the new patio construction. Once again, many thanks."
"We would like to thank you for the excellent work your team did on our patio and driveway. We were impressed by your dedication and efficiency and your willingness to make adjustments when asked and we wouldn't hesitate to recommend your company."