Awards
RHS Tatton Flower Show Back to Back garden in 2018 – RHS Gold medal
Paul Gibbons Landscapes successfully teamed up again with Arley Hall and Gardens to construct their RHS Tatton Flower Show Back to Back garden in 2018. We were one of only eight applications chosen to construct a Back to Back garden which are designed to show what can be achieved with a small plot of land. The area covered is just 6m x 4m.
"The flowers of Arley" garden was designed to recreate in miniature Arley Hall gardens which included highlighting the traditional herbaceous borders that the gardens are famous for, along with inspiration taken from the old brick barns.
Working alongside the team of gardeners from Arley, to bring to fruition their design, Paul and his team installed a brick path laid in a basket weave pattern that perfectly reflected the style used in the old barns at Arley. The modern bricks that were used, were selected to closely replicate the 17th Century Cheshire bricks that would have been used at Arley. The Arley logo was also included within the design in blue bricks that can be seen under the bench.
We are delighted to say that the team was awarded a Gold medal for their efforts which is a fantastic achievement and one that we are very proud of. To see the finished garden, take a look at the photographs included.
RHS Tatton Flower Show 2017 – RHS Silver Gilt award
Paul Gibbons Landscapes Ltd installed the hard landscaping for one of the back to back gardens at the RHS Tatton flower show.
The garden was Arley's Thyme to Retreat, in which an angled yorkstone path was laid, along with small pebble areas to house creeping herbs and using reclaimed materials from Arley Hall and Gardens. As a feature, an antique cheese stone was used. The circle and cross are shallow drainage channels that were to direct the excess whey out of the cheeses. Joe Swift filmed on the garden for the BBC Tatton flower show program. The garden went on to achieve an RHS Silver Gilt award.
Marshalls Register of Approved Landscape Contractors

We are members of a nationwide approved landscape contractor scheme. The Marshalls Register of Approved Landscape Contractors and Driveway Installers.
As an Approved Contractor we benefit from the latest technical, training and service support which ensures we are briefed on the latest standards and products. Marshalls hold seminars and conferences throughout the year to keep us updated and this year (2012) we were awarded this year to a Marshalls 10 years longevity award. This is an achievement to be proud of as it proves we have constantly kept to their high standards of installation.
Years ago a scheme was set up by Marley who were one of the top manufacturers of paving products at the time, for approved contractors and installers. They were then taken over by Tarmac TopPave who transferred members of that scheme to their Tarmac TopPavers Approved Contractor Scheme. We were members of that scheme and in 2004 we had the pleasure of being awarded at the groups annual conference in Bristol the nationwide winner of TopPave's Patio of the Year 2003. A prestigious award and one we are proud of.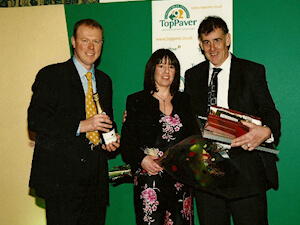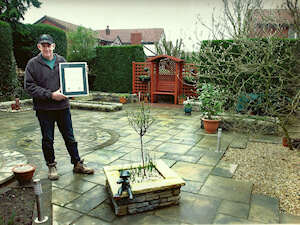 Receiving award from Mark McColl, the Managing Director of Tarmac TopPave 2004
Award Winning Patio at The Whitfields, Macclesfield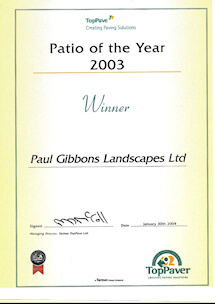 Awards Certificate' to name "Patio of the Year 2003 Winner Certificate
This was awarded to us by Tarmac TopPave on attention to detail, innovation and aeshetics on a patio constructed in Macclesfield.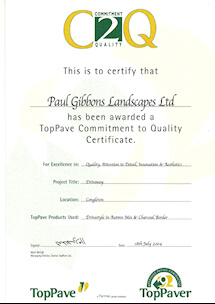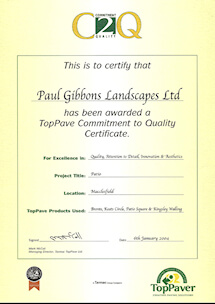 Commitment to Quality Certificate Driveway
Commitment to Quality Certificate Patio

We also achieved a Commitment to Quality Award for this patio along with a driveway in Congleton.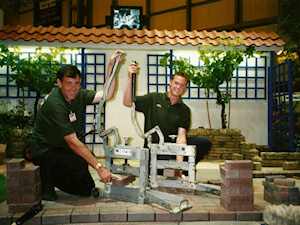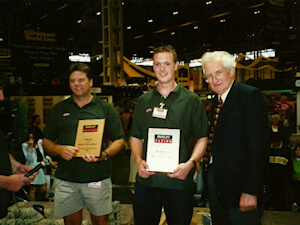 NEC Birmingham Runners Up
Joe Receiving Runners Up Plague from Peter Seagrove

Through the above scheme Paul and an employee Joe Manning took part in a contest held at the BBC's Gardeners World Live Exhibition at the NEC Birmingham in 1995. This was a national Marley Paving Race to prepare a 2m x 1m area and lay 100 block paving bricks in that area.
Joe came 2nd laying his blocks in 4 minutes and 41 seconds! Paul 4th in the race and Joe was awarded his runners-up plague by gardening celebrity Peter Seagrove.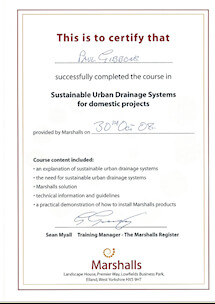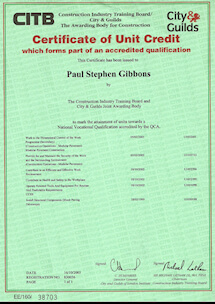 Marshalls Course on Drainage Systems
Marshalls City & Guilds Unit Credit Qualification
Marshalls City & Guilds Unit Credit Qualification
Tarmac's TopPave Patio of the Year Award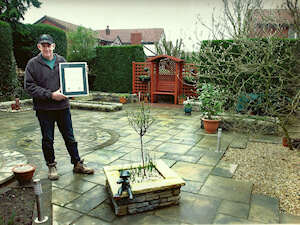 Macclesfield based Landscape Gardeners Paul Gibbons Landscapes Ltd won the prestigious national award 'Patio of the Year 2003' recently in Bristol at the annual conference and awards dinner of Tarmac TopPave.
Paul was a member of Tarmac TopPaves national elite group who were chosen for their skills, profesionalism and high standards of workmanship across the country. Paul was awarded TopPave 'Patio of the Year 2003' and a TopPave 'Commitment to Quality' award for Quality, attention to detail, innovation and aesthetics on a patio he constructed last Summer at The Whitfields, Macclesfield.
Paul says of the award "We were thrilled and surprised to receive the award as we are a small company compared to many in the scheme. We work hard all year and its great to have our standard of work recognised and rewarded. "
Award Winning Patio in Macclesfield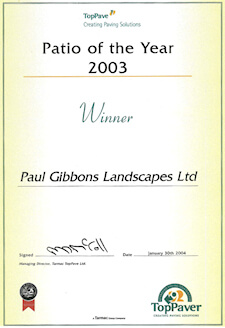 Customer Feedback
"We were extremely pleased with the work carried out by Paul Gibbons Landscapes. The work was carried out to the timescales agreed, whilst working in a Covid secure manner with minimal disruption to us. The site was always left in a clean and tidy state and the team clearly took pride in their work. The end result exceeded our expectations. I would have no hesitation in recommending Paul."
"I was extremely please with the work that Paul and his team carried out for me. My friends and family have commented on how good it looks.They dig out the old front garden and paved this along with the side path which made parking for two cars. They also landscaped my back garden. The ideas for the back garden evolved as the project went on they were good as suggesting what would work and what wouldn't for example were to place my large water feature. Paul also came up with a great way renovating my tired and sorry looking back fence. They kept to the agreed schedule, their time keeping and work ethic was exemplary. The project came in on budget. The attitude was very professional and they maintained the guidelines for Covid 19. I would definitely recommend them to you."
May I take the opportunity to thank you and your team for the recent patio construction. Notwithstanding that the finalised patio design appearance is strikingly beautiful and substantially enhances the garden profile, the work was conducted very professionally whilst the attention to detail was first-rate. The team kept me informed of the construction throughout, were friendly and courteous at all times, worked endlessly whilst onsite and ensured that the vicinity was clean and tidy on a daily basis. Albeit a variation to the agreed patio specification, I was extremely thankful for you and the team in performing supplementary work to my existing patio in order to renovate the pointing to the same standard employed on the new patio. I would have no hesitation in recommending your company to friends and family as I'm absolutely delighted with the new patio construction. Once again, many thanks."
"We would like to thank you for the excellent work your team did on our patio and driveway. We were impressed by your dedication and efficiency and your willingness to make adjustments when asked and we wouldn't hesitate to recommend your company."