Our Services – patios, sitting areas & walling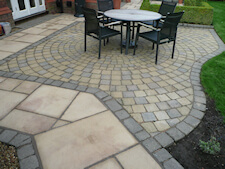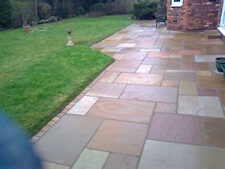 Having a beautiful patio, terrace, sitting area, walling and pathway around your home should reflect your personalities, preferences and lifestyles. Maybe you have extended your property and are planning your patio to reflect the new conservatory or extension, you perhaps have moved into a new house and you are planning your entire garden, or you may be looking at a whole new design for your patio with more space to enjoy your garden for al fresco dining and entertaining. Or your existing patio needs relaying and extending to suit your needs.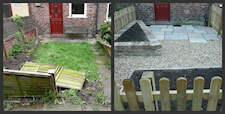 Paul Gibbons Landscapes Ltd can guide you every step of the way providing you with ideas and designs, tones, textures, style and colourways to suit your property and its surroundings, any number of quotations for those options, and a good quality service with as little disruption as possible during installation. We want you to be fully satisfied with our work and will not expect final payment until the project is completed to your full satisfaction. We supply a 5 year guarantee on all our work.
We work on a supply and install or install only basis, and will install any type of paving products of your choice. Many can be seen in building merchants, specialist paving centres and DIY stores. Indian stone is a popular choice at the moment. We can direct you to local suppliers to see the product or provide samples for you.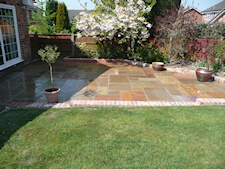 We prefer to use paving products that reflect the quality of our installation to suit any purpose, any property and any budget. We can design, source and lay any of the vast range of paving, decorative aggregates and walling products on the market.
Two manufacturers of quality paving products are Marshalls and Brett (formerly Marley then TopPave). All their products are manufactured to the appropriate European Standard where applicable and to the highest standards. They provide guarantees for their products and are committed to quality and innovation. Their products can be chosen out of their catalogues available in most builders merchants or samples from us on request.
The most popular products we install from these manufacturers are:-
Indian stone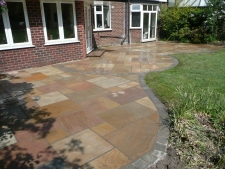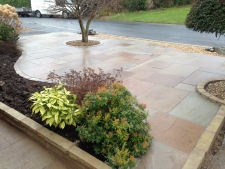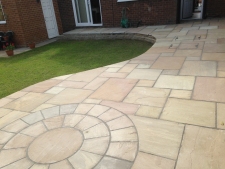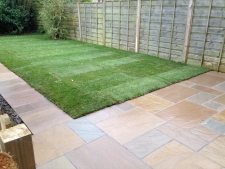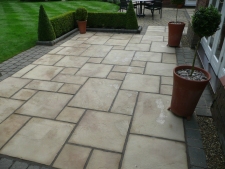 Indian stone has become more and more popular over the last few years. It comes in a range of colours so it can suit any property and can look great alongside other paving. As it is a natural product, when it is cleaned it looks like new. It is strong enough to be used for driveways as well as paths and patios.
Brazilian Slate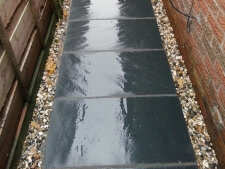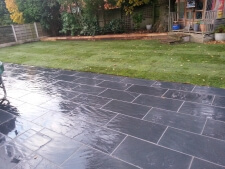 Using Brazilian slate is a very cost effective way of creating a path or patio. With sawn edges and a subtle riven surface the slate is perfectly suited to modern and contemporary garden styles. With a choice of sizes and colours that can be seen at www.blueskystone.com
Heritage Paving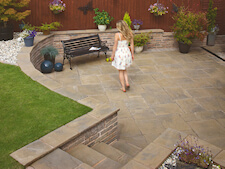 Cast from genuine split stone flags with mason fettled edges reminiscent of newly quarried Yorkstone which blends with almost any garden setting Britian's favourite paving finish is available in a number of sizes and colours with the options of a Heritage Circle in 2 or 3 rings with squaring off kit and a Heritage Octant in 2 or 3 rings and even in matching stepping stones.
Coach House Paving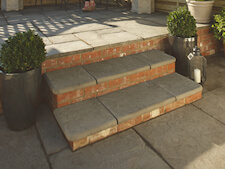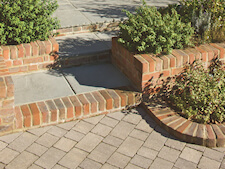 Ideal for traditional gardens providing a delightful authentic reclaimed stone look this flag is full of character and invisibly protected with Active Shield so only minimum maintenance will keep it looking good. This flag is available in a choice of 3 colours and is available in a number of sizes with the options of a 2 or 3 ring circle with squaring off kits and bullnosed steps with step corners and centre pieces.
Coach House Paving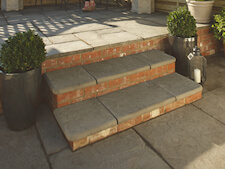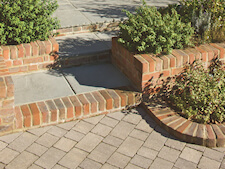 Brick Wall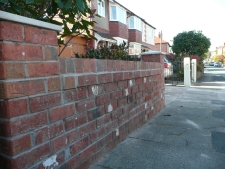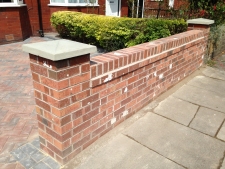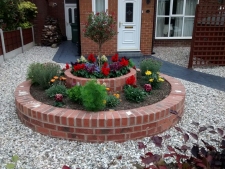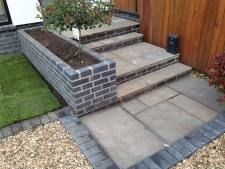 Garden walls can be built simply to look good, or it can serve a purpose too. For instance one may be built to hold a greenhouse up, retain a soil bank, form an edge or division, house a BBQ, raise a planting bed, enclose a set of wheelie-bins or compost heap, help to provide a level site for the patio, screen off neighbours, create rooms, hang a gate on or act as a boundary. Walls can be built in a variety of bricks, to match or contrast with the property.
Natural Stone Wall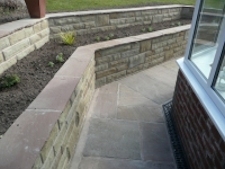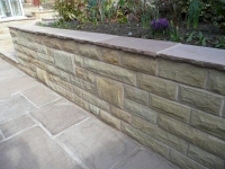 Paul Gibbons Landscapes buy natural stone walling from a local Cheshire supplier. It comes in various lengths so it creates a wall with visual interest. It looks good alongside most other products and will last a lifetime as it is a natural block. It creates a strong and good-looking wall in any garden.
Dry Stone Wall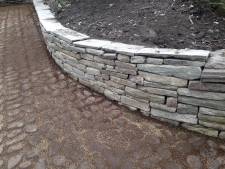 Dry stone is a building method by which walls and other structures are constructed from stones without any mortar to bind them together. Dry stone walls are long lasting structures that enhance the garden and also act in harmony with the surrounding landscape.